Scallops. They're basically little drops of heaven. Naturally sweet, they seem to be a perfect complement to whatever you surround them with or sit them on top of. For the past few years I have been on a scallop kick! If I'm out at a restaurant and there are scallops on the menu, chances are they end up in front of me. The only time I really don't enjoy them is if they are in a soup and have been cooked far too long, producing a tough and flavorless scallop. Life is too short for overcooked scallops.
Scallops are one of those things not many people cook at home. After you do it once and realize how ridiculously easy they are to prepare, you'll wonder why you waited so long to try making them.
Risotto also falls into the same territory where people love eating it, but are intimidated to try it at home. What's important to know about making risotto is that it isn't difficult, but it requires time (just about 20-25 minutes) and patience.
To prepare scallops:
Ingredients
- fresh scallops (about 4 per person depending on the size)
- kosher salt & fresh black pepper
- 1/2 tbsp. of butter
- olive oil

I did some research on the best way to prepare seared scallops. Typically, when you buy them fresh at the grocery store, they are coated with a solution that helps to keep them white, unless you can find them "dry-packed," but the latter is usually available only at specialty seafood markets and vendors so more likely than not, you'll want to rinse them.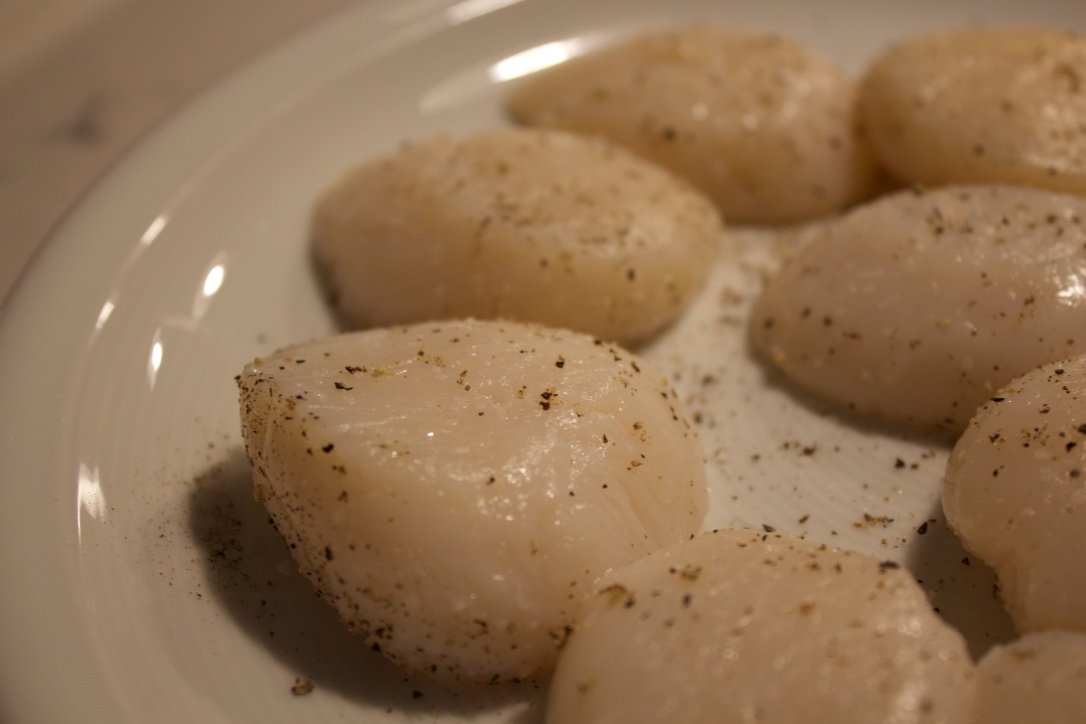 Gently rinse the scallops in cold water. Examine your scallops to see if they have a "beard" - this is a side-muscle. If you touch the scallop you can feel that this part will be tougher than the rest of it. Just gently pull it and it should come right off.
In order to get that golden brown sear, the scallops need to be as dry as possible. Pat dry between two paper towels. Season with salt and pepper - I would salt just one side and pepper both sides.
Heat your pan over med-high heat (more high than medium though). Add olive oil and a thin slice of butter to the pan. Once the oil starts to glimmer, your pan is ready - you should hear a nice loud sizzle when they hit the pan. Do about 4 scallops at a time and space them out, don't crowd them.
TIP:
**Even if it looks like your pan could fit 8, just do 4 at a time.**
Cooking time really depends on your personal preference but generally it will range from 1 to 2 minutes on each side. Personally, I like mine underdone in the center to maintain its sweetness - 1 minute on the first side and about 45 seconds on the second side. If you like yours to be fully cooked, 1:30-45 on each side should do the trick. To check for doneness: Gently poke the top of the scallop with your index finger. If it bounces back to you, they are DONE.
TIP:
**Just like with steak, err on the side of undercooking because you can always throw them back on the pan for a bit longer.**

Keep in mind you can prepare scallops this way and serve them with anything else, not just risotto. In the summertime, they would be perfect on top of a corn and tomato salad.
To prepare risotto:
Ingredients
- 1 pound Arborio rice
- 7-8 cups of chicken broth
- 3-4 cloves of garlic
- 1/2 of one large onion
- 2 cups of grated parmigiano reggiano
- 1/2 peas, steamed (optional)
- fresh black pepper
- fresh chives for garnish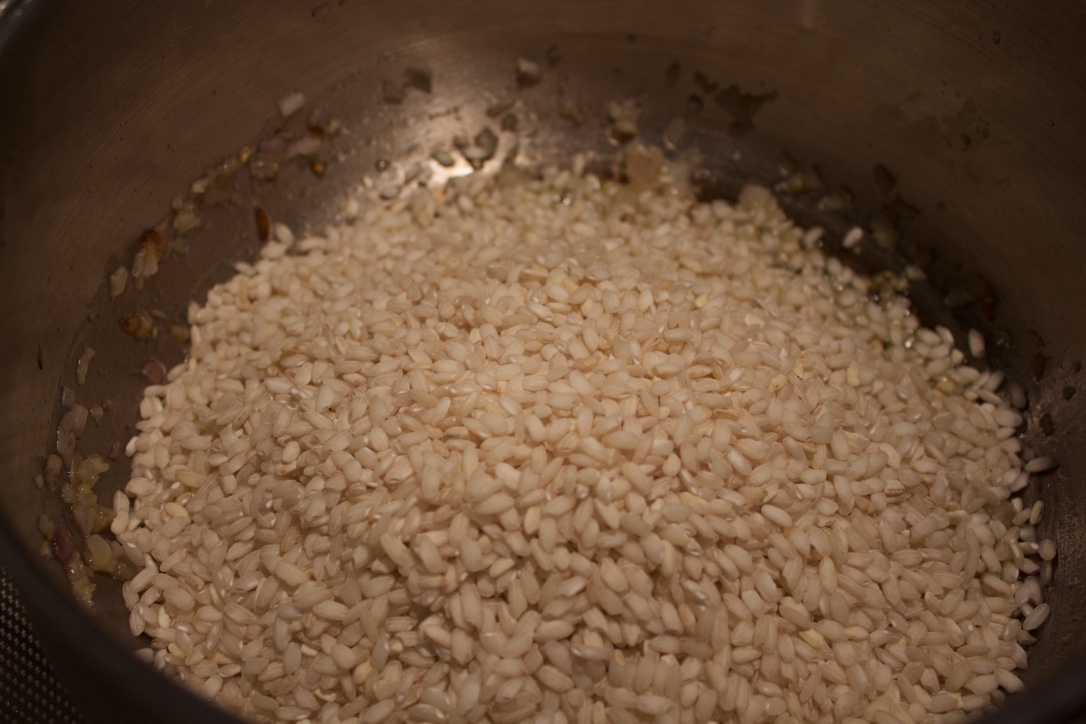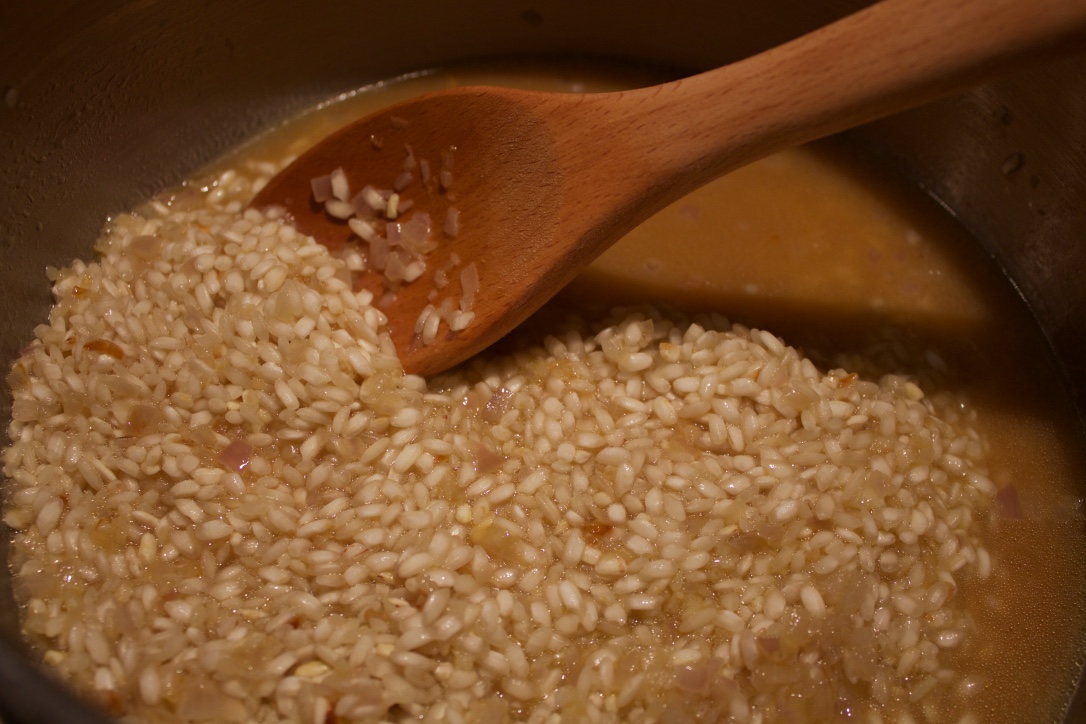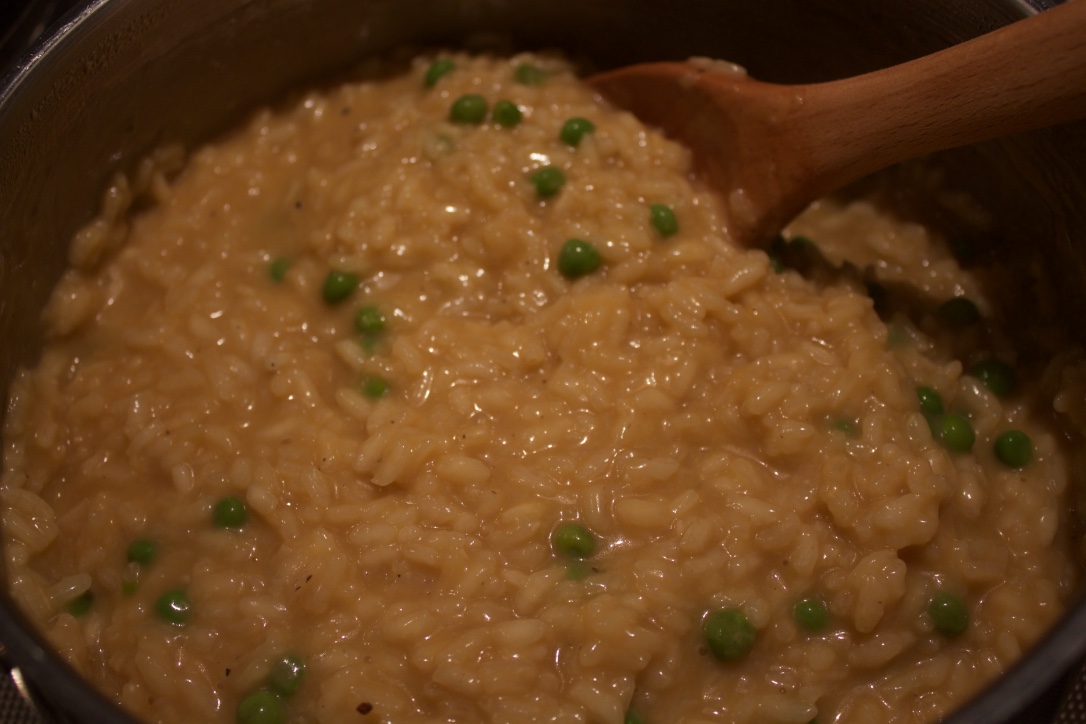 Mince 3-4 cloves of fresh garlic (I use a garlic press). Dice half of a large onion. Grate parmigiano reggiano cheese.
Heat a large skillet that has some depth to it. Add the butter and olive oil. Then add the garlic and chopped onion. Saute until onions start becoming translucent and soft. Toss in all the Arborio rice and stir to coat all the rice with the garlic and onions.
Just one cup at a time, ladle the chicken broth into the rice and stir with a wooden spoon--this is the beginning of lots of stirring so get comfortable. Once it looks like the rice absorbed all the liquid, add another cup of broth. Stirring constantly and after each addition, you're going to keep adding a cup of broth as it gets absorbed. The risotto is ready when you taste it and it doesn't have a hard bite (about 20 minutes and 7-8 cups of chicken broth later).
Once the rice is done, stir in the parmigiano along with some black pepper. If you are adding steamed peas, now is the time to put those in.
**Taste your risotto and if you need it, add kosher salt to taste. Depending on what cheese you use, it might have enough salt to flavor it, but this comes down to personal preference.**
Spoon some risotto onto a plate and plop a couple scallops right on top. This dinner is perfect for date night in or just an impressive meal to serve your family/friends. Don't be intimidated to make foods you would normally eat at a restaurant. I beg of you! Go! Get stirring!